In 2001, Raj Binder Singh became the first Kenyan of Asian origin to become chairman of a major football team when he became chairman of Gor Mahia. He became the third club chairman in two years. His main brief was to secure sponsorship for the club. The sponsorship never came to fruition. Not sure why anyone thought that he would be able to secure sponsorship






The year 2002 will go down in history as the worst in the history of the club. They finished with a record of 3 wins, 4 draws , 12 losses and a goal difference of minus 20 goals. Only Re-Union had a worse record. For the first time in the club's history, Gor Mahia was relegated from the top flight. The club had finally sunk to depths which would have been unthinkable only 5 years earlier. The league had been divided into two groups. Gor Mahia finished at the bottom of group B behind other relegated teams like Pan Paper and Mombasa Heroes. They however received a reprieve from the KFF. Even after the reprieve, the club officials could not get their act together and save the club from furher ignominy.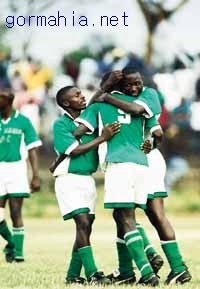 Jackson Mureu, Nick Otieno and Benard Odhiambo celebrate an equalizing goal during a league match. There was'nt however much to celebrate during the 2002 season and many will want to forget it quickly.

In 2003 Gor Mahia was the runner-up in the 2003 KPL Transparency Cup cham-pionship and received from KPL a cash award of Ksh 500,000, the largest amount ever received in the 35-year history of their club. Gor Mahia player Kenneth Omondi received from KPL a cash award of Ksh 10,000 as their "Best Player". Gor Mahia player Jackson Atika also received from KPL a cash award of Ksh 10,000 for "Best Fairplay".

In 2004 at the end of the 2003-04 season, Gor Mahia had won only two games and finished in last place but avoided relegation when the KFF and Premier League clubs agreed to reconcile and form a "unified league" with 24 clubs playing in two groups with the last three clubs in each group to be relegated at the end of the 2004-05 season.

In 2005 at the end of the 2004-05 season, Gor Mahia had won only six matches and ended among the three last clubs to be relegated in Group A. But on June 10th Gor Mahia Chairman Erastus Okul convened and chaired a meeting of the "KFF Premier League Committee" which re-jected a Kangemi United player's card which he had himself signed on behalf of KFF as an acting KFF official earlier that year, declared the player ineligible and then deducted three points from Kangemi United. Kangemi then dropped just below Gor Mahia in the standings and was to be relegated instead of Gor Mahia. But a higher appeals body rejected and reversed that decision. Kangemi got their three points back and Gor Mahia was again relegated. In August 2005 Nzoia FC dropped out of the league. The KPL clubs met and decided to change their previous decision not to replace clubs which dropped out. Instead the KPL clubs agreed to allow the two highest placed clubs which had been relegated in each group, Securicor and Gor Mahia, to play a special home/away playoff to determine which club would replace Nzoia for the 2005-06 season. But Mr. Okul refused to allow Gor Mahia to honour both playoff matches. As their club did report for both matches, Securicor rejoined the league and Gor Mahia remained relegated. In September 2005 Pipeline FC dropped out of league. Despite the refusal of Gor Mahia to re-spect the rules and also honour their playoff matches, the KPL clubs still allowed Gor Mahia to replace Pipeline in the 2005-06 KPL Premier League.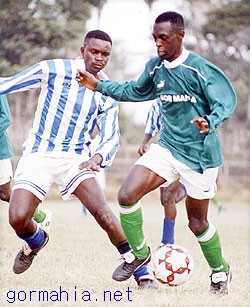 Forward Emmanuel Wakata scored several crucial goals for Kogalo in 2005

Gor Mahia spent much of 2006 engaging in fights with KPL. Chairman Erastus Okul adopted an antagonistic and confrontational attitude towards KPL. To make matters worse, some KPL officials were indeed trying to kill the club in the mistaken belief that the demise of Gor Mahia and AFC Leopards would herald a new dawn for Kenya football. At one point, the club refused to pay a KPL imposed fine. KPL Managing Director received full payment of the Gor Mahia penalty from an anonymous "senior official of another KPL club" who wrote in an unsigned letter that "it is deeply disappointing that a few colleagues who are senior Gor Mahia officials refuse to respect the KPL policy against assaults on referees which their representative approved in February. Their refusal to respect the rules also saddens me because it is not those officials but their own players who are suffering the most after playing so well this year. Out of respect and sympathy for the Gor Mahia players, I enclose full payment of Ksh 45,063 so they can resume playing …"
KPL Thus allowed the club to resume playing. But the belligerent Okul refused to allow the club to play and proceeded to skip 3 succesive matches. KPL thus relegated the club again. It came at a time when Gor Mahia were doing well in the league and likely would have finished amongst the top 3. Striker Ken Oliech was amongst the top 3 scorers in the league. The primary losers in Okul's ego tripping were ofcourse the fans and the players whose valiant efforts were wasted by officials.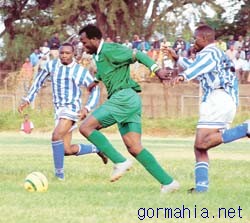 Ken Oliech in action against AFC Leopards circa 2006

In 2007 KFF decided to set up their own league, KFF PL, in an effort to dismantle the KPL. Gor Mahia and relegated teams Shabana, Kangemi and AFC Leopards were added to make the league consist of 20 clubs. FIFA intervened to unify KFF-PL and KPL. Whereas KPL wanted Gor Mahia relegated, Jerome Champagne insisted that Gor Mahia remain in the league. The season ended with Gor Mahia finishing 11th out of 16th. 2008 heralded a new era for the club when Ambrose Rachier was elected Chairman. The years between 2001 and 2008 had been by far the worst for the club. The entry of a new set of officials was indeed seen as a breath of fresh air by fans who deperately wanted a forward thinking chairman with ideas for how to return the club to past glory. In 2008, Gor Mahia won the Presidents cup after beating Posta Rangers 2-0 in the final, thus earning the right to play continental football for the 1st time in about a decade.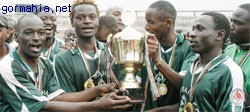 Kogalo pose with the Presidents cup


So in 2009, Gor Mahia sought to star a fresh. Coach James Sianga went about recruiting young players to build a team for the future. In came players like Ibrahim Kitawi, George Odhiambo, Duncan Owiti, Chris Wekesa amongst others. Kogalo played APR of Rwanda in the 1st round of the CAF cup. The young players some ofwhom were still in secondary school were clearly overawed by the occasion. Their stage fright and inexperience showed as they lost by 5 clear goals. Gor Mahia however went on to play a stormer of a second leg in the KPL that saw them go from 10th position to 5th. George Odhiambo now dubbed "Blackberry" was voted young player of the year by a panel of journalists and along with Peter Opiyo, Julius Owino and Ibrahim Kitawi, was named to the national team.

In 2010 Kogalo started the season with two coaches; Gideon Ochieng 'Agido' was the headcoach and former full back Zedekiah Otieno was designated as the Technical Advisor. That arrangement did not last long as it reportedly caused divisions in the camp and most players sided with 'Agido'. As the clubs top brass wanted Zico, Agido was sidelined in mid season. Gor Mahia went on to play strongly in the second leg of the league and came within a whisker of winning the league. The league winner was determined on the last day of the league and Gor Mahia finished second behind Ulinzi Stars. At the end of the year, George Odhiambo 'Blackberry' , who had played 3 stellar seasons for Gor Mahia and finished second in KPL scoring, secured a 4 year contract with Danish top tier side, Randers FC. Odhiambo was also voted KPL player of the year.

From a financial perspective, 2011 was a landmark year because that was the year that Gor Mahia secured a shirt sponsorship for the first time ever. Previously in 1991, Gor Mahia wore shirts emblazoned "International Casino". However the proceeds from that sponsorship are unknown and clouded in mystery. The Tuzo sponsorship was the most lucrative by any club in Kenya.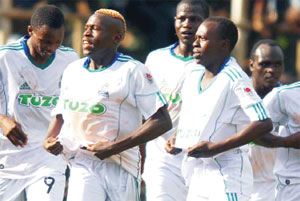 Edwin Lavatsa, Eric Masika, Anthony Akumu, Kevin Omondi and Chris Wekesa flash their new shirt sponsors

Also in 2011, Gor Mahia won the local cup, now called the FKF cup after beating Sofapaka 1-0 in the final thanks to a goal by Edwin Lavatsa. Gor Mahia thus qualified for the CAF Confederations cup.

The beginning of 2012 was a tumultous time for Gor Mahia. In a bid to strengthen the team, the club went on a signing spree. Unfortunately, the signing was being directed by members of the executive council and not by the technical bench. A Nigerian by the name of Felix Nwosu, who called himself "Felixinho" suddenly showed up at the club's training ground and expressed interest in joining the team. He claimed to have played for Enugu Rangers. A section of fans were excited. However soon coach Anaba Awono expressed dissastisfaction with Nwosu saying he was an average player not worth signing. Nwosu then sent a series of threatening SMS messages to Awono. A few days later Nwosu was dismissed. Another signing that did not pan out was that of Anthony Otieno Nyangor who had been signed after putting on a stellar display against Gor Mahia during the club's tour of Kisumu county. He soon earned the nickname "Ballotieno". Four other players were signed including George Midenyo, Hugo Nzoka, Ivo Mapunda Yusuf Juma and Rama Salim.


Gor Mahia started the season disastrously, losing 4-0 aggregate in the opening round of the CAF cup to Ferroviario of Mozambique. They also played poorly in the league. By the time the league was six games old, Gor Mahia were in the relegation zone. It turned out that much of the poor performance was due to infighting within the bloated technical bench and the Executive committee. In a bid to stem the tide of poor performance, the club sacked the entire technical bench including Coach Anaba Awono, former captain Julius Owino, team manager Ouma Ole Tunda and assistant coach Ken Odhiambo.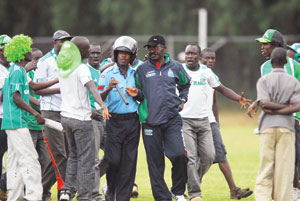 Fans confronted coach Anaba Awono after another poor performance this time against Karuturi sports

Legendary stopper Bobby Ogolla took over as coach on a interim basis, assisted by Tom Ogweno. Two weeks later, Croatian coach Zdvarko Logarusic was appointed as coach.

Logarusic soon overhauled the team getting rid of almost a dozen players including Demonde Selenga, Hugo Nzoka and later Dan Makori and Ibrahim Kitawi. The arrival of Logarusic caused a change in fortunes for the team. Gor Mahia went through a stretch of a dozen games where they did not loose. By September, Gor Mahia were amongst the league leaders. By the last match of the year, Gor Mahia were leading with only a game left. They needed to beat Thika United in the last game to clinch the league. However they were held to 1-1 draw and ended up finishing second to Tusker.
Having narrowly lost the league in 2012, Gor Mahia started the league in determined fashion in 2013. And with coach Logarusic enforcing discipline and professionalism both on the field and amongst officials, Gor Mahia for the first time in many years started the season with stability. It was not without drama however; Gor Mahia announced with much fanfare that they were signing a Brazilian by the name of Giovanni Rodriguez Bissolli. However when the Brazilian arrived he was out of shape and clearly out of his depth. He was soon shown the exit by Logarusic who claimed that the Brazilian was lonely. Still Gor Mahia started the league well and by the halfway point , they were leading the league thanks largely to a solid defence in which goalkeeper Jerim Onyango stood tall along with David Owino, Donald Mosoti, Musa Mohamed and Ugandan Israel Emuge.
However drama ensued as Logarusic declined to return from his vacation during the halfway break of the league. He was fired and promptly replaced by former Uganda Cranes coach Bobby Williamson. Gor Mahia suffered another blow when influential attacking midfielder, Rama Salim who had been Gor Mahia's second leading scorer for the past 2 years left for Al Markiya of Qatar.
Neverthless, Williamson soon brought stability. Ugandan Striker Dan Sserunkuma went on a tear during the last stages of the league, scoring in virtually every game. Gor Mahia held on to their league despite a determined chase by arch rivals AFC Leopards and went on to win the league for the first time in 18 years.